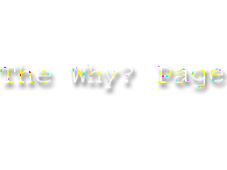 On this page I'll try to ask my self questions you might wonder about.
Why have you made this page?
Mikael 2000 has been created for fun, something to work on when I wannt to. I could have created a site about something that many people are intressted in maybe get a lot of visitors. But then it wouldn't be fun any more, sites with a lot of visitors require a lot of uppdates.
What's up with all of those flying things?
That's the DHTML (Dynamic HyperText Markup Language), it's not here for any special purpose, I just wannt the site to look cool :-).
What about all those popups, is this site made for making money?
This page hasn't been done for commercial purpose, the popups are from Tripod and V3 from which I get the webspace and adress. If I for some reason would try to make money I would notify my visitors.
My question isn't answerd here, why?
I probably havn't thought about you're question, just send it to me and I'll see what I can do.