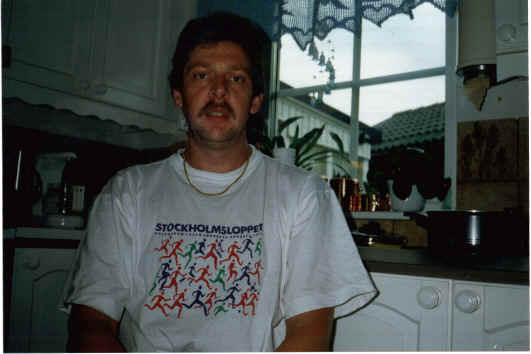 I am a 43-years old train-pilot employed at the swedish railroad company (SJ). I have been a pilot for about 15 years. I have worked in that company for twentytwo years. Most of my time i drive an italian dieselmotorwaggon between Hallsberg and Herrljunga. A distance of 210 kilometers. I live in Falköping about 110 kilometers from Gothemburg.Sometimes i drive train between Skövde and Nässjö and sometimes to Gothemburg. I drive passengerstrain for about 95% of the time. The only freighttrain I drive is one with timber that goes around the lake Vänern.
My hobbies are jogging,music, beer and wine making,reading books and Modesty Blaise comics. I have done about twenty half-marathon,five Stockholm-marathons, two Lidingörace(30 kilometers cross-country). And some local races too. Because of the beer-makeing (and drinking it) together with perhaps a pizza or some lasagne I weight too much.
Ifall du vill se den här sidan på svenska så klicka här!
Webmaster: Mikael Thyman